Claytek provides innovative solidification and waste material management services.
Through a combination of specialized, clay-based materials and effective mixing techniques, we transform drilling materials or other semi-aqueous materials into disposable, landfill ready solids in minutes.
The process uses a powdered, inorganic mineral formula used for the solidification of drilling slurries. We use a specialized mixing system that blends Claytek products for rapid  solidification and encapsulation of your waste slurry materials.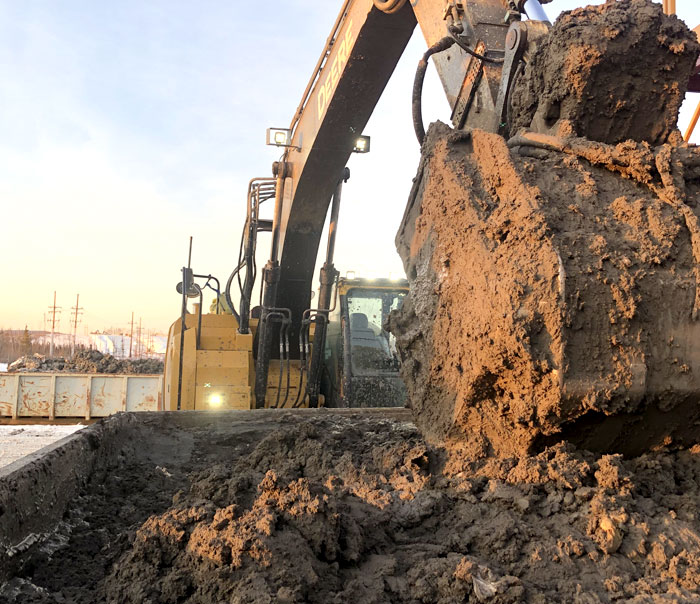 Rapid solidification of drilling material, dredge spoils, wet soils, and other semi-solid matter
Efficient solidification agent for low-level waste (LLW), mixed and hazardous wastes (BTEX)
Approved under AER D050 mechanical-chemical process to reduce waste streams and improve disposal/reclamation options
Solidification – rapid transformation of liquids, sludge, and other media into stable solids
Encapsulation – converts BTEX material and haz media into stable, non-haz material
Conversion – converts material designated for Class 1 landfills to Class 2 landfills.
Claytek's process is designed to treat liquid drilling waste.
By combining industry leading, bentonite-based media with our patented mixing systems, we create an unparalleled advantage.
Many of the unique properties of our process come from special bentonite clay blends. Montmorillonite is used to define the specific mineral in the bentonite clay, giving it unique properties. These can be enhanced and altered via the source and the manufacturing process.
Claytek uses products manufactured by CETCO, a world leader in enhancing mineral properties for industrial uses, predominantly by washing it to enhance surface area, increase ionic exchange capacity and remove impurities.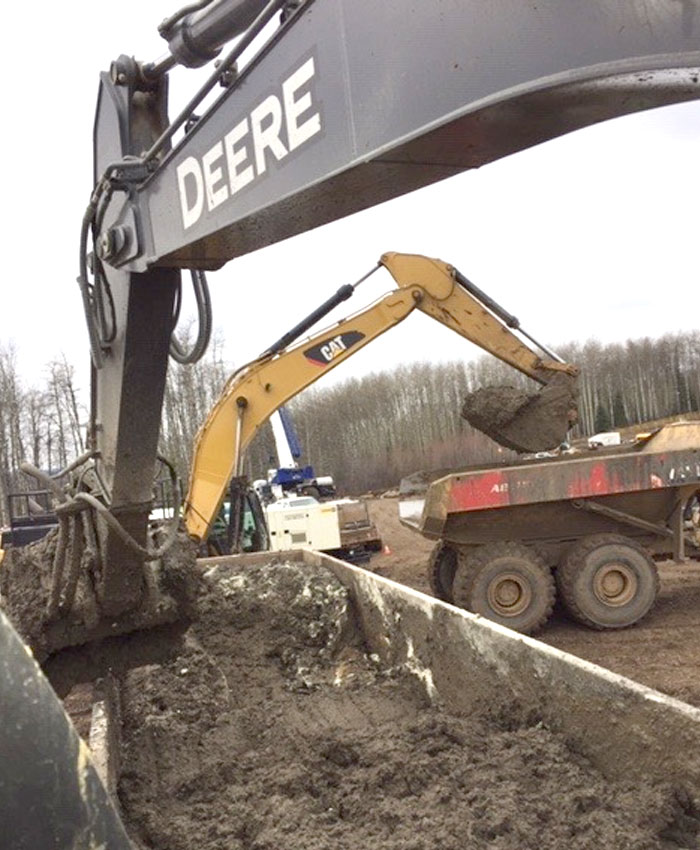 SOLIDIFICATION VS STABILIZATION
An important distinction should be made between stabilization with products such as sawdust, in which excess liquids simply adhere to a matrix. The Claytek process delivers an actual elimination of water (due to enhanced evaporation; 20-80% reductions) which contributes to a decreased volume of waste to be managed and a sequestration of water by the formation of a stable complex from which the remaining liquid cannot escape. The resulting solidified waste is a non-leachable solid that will NOT reliquefy.
Claytek operates several patented shear mixing systems, each of which can be adapted to the clients needs. In general, one system has a throughput of 25 m3/hr. Both portable or stationary options are available.
CLAYTEK'S REPERTOIRE OF SOLUTIONS
We have developed a range of solidification technologies and solutions to address specific challenges around the world, to tie up excess liquids, heavy metals and other inorganic contaminants and organic constituents, including hydrocarbons.
The Claytek process has proven that it can reliably and effectively convert drilling wastes into more manageable solid waste for enhanced material handling and cost effective disposal. The resulting treated waste is reduced in weight and volume. By way of contrast, sawdust and other materials can result in a 100 – 300% increase in volume to be handled.
More efficient material handling translates to the elimination of spill liability and the inherent cost of dealing with variable liquid streams. Claytek's process has proven that treated drill waste will surpass PFT and slump test criteria reliably under a wide range of operating conditions.r
Claytek's solidification process was proven to convert liquid drill waste into manageable (eg. stackable; passes landfill stability tests) solid waste for enhanced material handling and cost effective disposal. The resulting treated waste is reduced in weight and volume. Meanwhile, the treatment itself tied up and encapsulated heavy metals, as well as oil and grease, without additional conditioning, leaving a non-leachable sludge to be hauled off as a non-hazardous waste. In addition, the Claytek process has been approved by the Alberta Energy Regulator and the BC Oil and Gas Commission for mix-bury-cover applications, completely eliminating the need for transporting the waste off site (AER Directive 050 and BC Oil and Gas Handbook, respectively).
Claytek can provide a variety of ST1 blends to meet a broad range of solidifying needs, such as compression strengths, permeability, pH, etc. to meet your disposal specifications.
Upstream – Produced water, frac-water 
Downstream – Water used in processes will be clean and reused to minimize consumption and disposal of groundwater. De-oiling, de-emulsification, treatment and polishing for reuse, recycling or disposal.
Water used in processes will be cleaned and reused to reduce total consumption and disposal of groundwater. Dewatering solidification services and filtration for water reuse.
Industrial waste materials and water used in industrial manufacturing plants; eliminate organics and proteins, which typically are flushed down the municipal sewer.
Smelting and refining – Process water and materials used in the smelting and refining of precious metals can be decontaminated of residue and solids before being introduced back into the environment as per government regulations.
Spills and Contamination – Water or soil that has been affected by environmental disasters can be processed and safely disposed of or released back to the environment, contamination-free.